Application
Kroenke Sports & Entertainment 2023 – 2024 Community Pride Ticket Program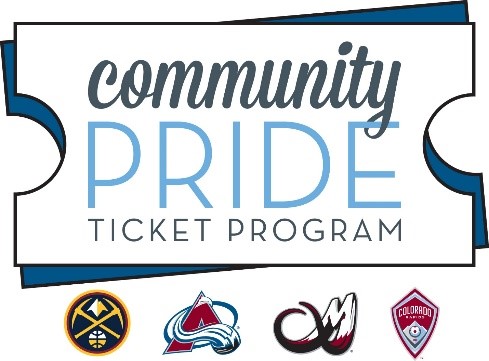 Kroenke Sports & Entertainment Community Pride Ticket Program provides tickets to Colorado nonprofit organizations and not-for-profit schools that serve children, public servants, and community and civic groups who might not otherwise have a chance to attend a professional sporting event.
Tickets cannot be used in fundraisers, and will not be provided to individuals, for-profit organizations, or organizations outside of the state of Colorado.
On behalf of Kroenke Sports & Entertainment (KSE) we invite your organization to apply for the KSE Community Pride Ticket Donation Program. You must complete this application thoroughly in order to be considered for inclusion in our ticket program
Please read the rules below before proceeding to application. Violation of any of these rules will result in dismissal from the donation program.
Your organization must be a 501c3 registered non-profit agency located within the state of Colorado and you must provide a federal tax ID number on the application. Federal tax ID numbers are 9 digits and follow the following format: 12-3456789. If you submit a Colorado tax ID number (7 digits long) your application will not be accepted.
All organizations must be under strict compliance with OFAC (Office of Foreign Assets Control), and other local, state and federal laws and guidelines
Kroenke Sports & Entertainment may review each organization's historic work with other partners and the public to ensure they are in good standing
Booster groups (athletic, military, or otherwise) will not be accepted into the program
Military Groups & Military Support Non-Profits:

Must be in good standing with DoD
Kroenke Sports & Entertainment may reach out to you to request more background information and/or an officer list as necessary.

We are not able to provide tickets for fundraising events, and this application should not be used for the purpose of requesting tickets for a fundraiser. If you are a Colorado non-profit/school and would like to request an autographed item for a fundraising event instead, please click here
All tickets are electronic. Physical tickets cannot be provided, per Ball Arena, Dick's Sporting Goods Park, and Paramount Theatre policy. Participants must have access to a smartphone with internet access in order to use tickets. Please take this into consideration before submitting an application for your organization.
All tickets received through this program must be used. If tickets go unused, your organization will be put on probation. If this happens on multiple occasions your group will be permanently removed from our program.
Tickets received through this program are NEVER to be resold. This will be tracked. If tickets are resold you will be dismissed from the program.
Each organization is allowed ONE (1) contact person in charge of receiving all ticket offer emails and requesting tickets on behalf of the organization. Please do not have multiple employees complete the application on behalf of your organization.
Each individual may only represent ONE (1) organization.
The contact email MUST be a business email registered with your organization
You will receive an email from TicketDonations@TeamKSE.com if you are accepted into the program. Due to the number of applications we receive, please do NOT reach out to us regarding your application status unless it has been 3 weeks since you submitted your application. It may take up to 3 weeks for your application to be reviewed. Applications are processed on a rolling basis year-round. Email TicketDonations@TeamKSE.com with any questions or concerns.